How to apply for a Parkland Cares grant – deadline April 30th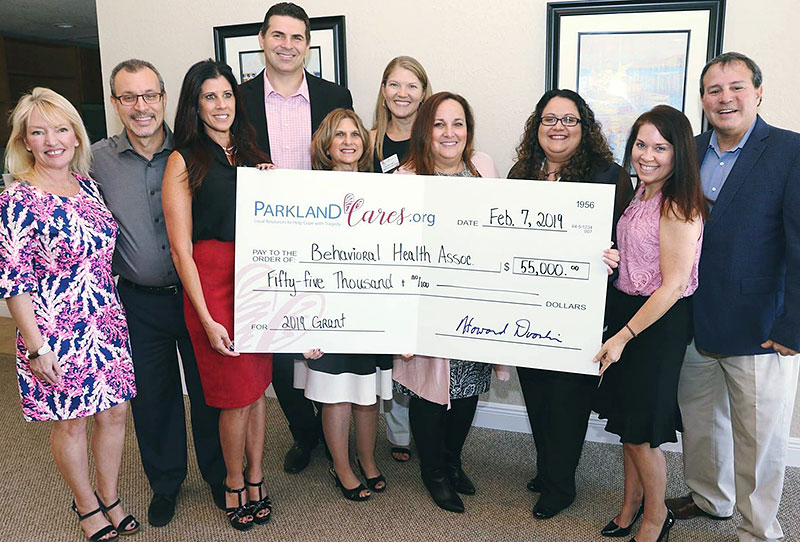 Parkland Cares awarding Behavioral Health Associates of Broward a $55,000 grant to help them support those affected by the Marjory Stoneman Douglas High School shooting.
By Kristen Grau
Since its inception, Parkland Cares has awarded $450,000 in grants to nonprofit organizations that provide direct mental health care to those affected by the tragedy at Marjory Stoneman Douglas High School on Feb. 14, 2018. Parkland Cares continues to explore new and innovative ways to partner with nonprofits who share its vision of mental health counseling and healing the community. Parkland Cares knows that the community will continue to need critical mental health services for years to come. Along with continuing to fund those organizations that heal the Marjory Stoneman Douglas community, Parkland Cares wants to be known as champions of mental health awareness and care.
Parkland Cares has opened up its grant application to all mental health nonprofits who serve the MSD community. The board of directors encourage South Florida organizations to review the grant guidelines during the submission period, which closes April 30.
"We're thrilled to have been able to help fund these nonprofit organizations." said Parkland Cares Executive Director, Stacey Udine. "They continue to do vital work with the those who were traumatized by what happened. There's more work to be done and many more people that need help now!"
Parkland Cares is proud of the work its grantees have provided to the community. Here are a few of our grantees' outcomes from this past year…
• Behavioral Health Associates of Broward provided counseling to 524 people
• Children's Bereavement Center had 58 people become active members of their Parkland support group
• Broward 2-1-1 provided resources to 235 callers and certified 24 staff members
"When the news fades from the national headlines, the community still has to pick up the pieces," said Founder of Parkland Cares Howard Dvorkin. "Studies have shown that long-term mental health care is needed after such a tragedy for years and with Parkland Cares broadening our reach, we want to hear from organizations specializing in the hardest kind of care: the kind that continues for a long time."
Parkland Cares mission is to provide immediate and long-term funding and awareness for mental health counseling for the Marjory Stoneman Douglas shooting survivors, their families and the community-at-large.
The deadline to apply is April 30.