Obstacle course helps raise money for Parkland Cares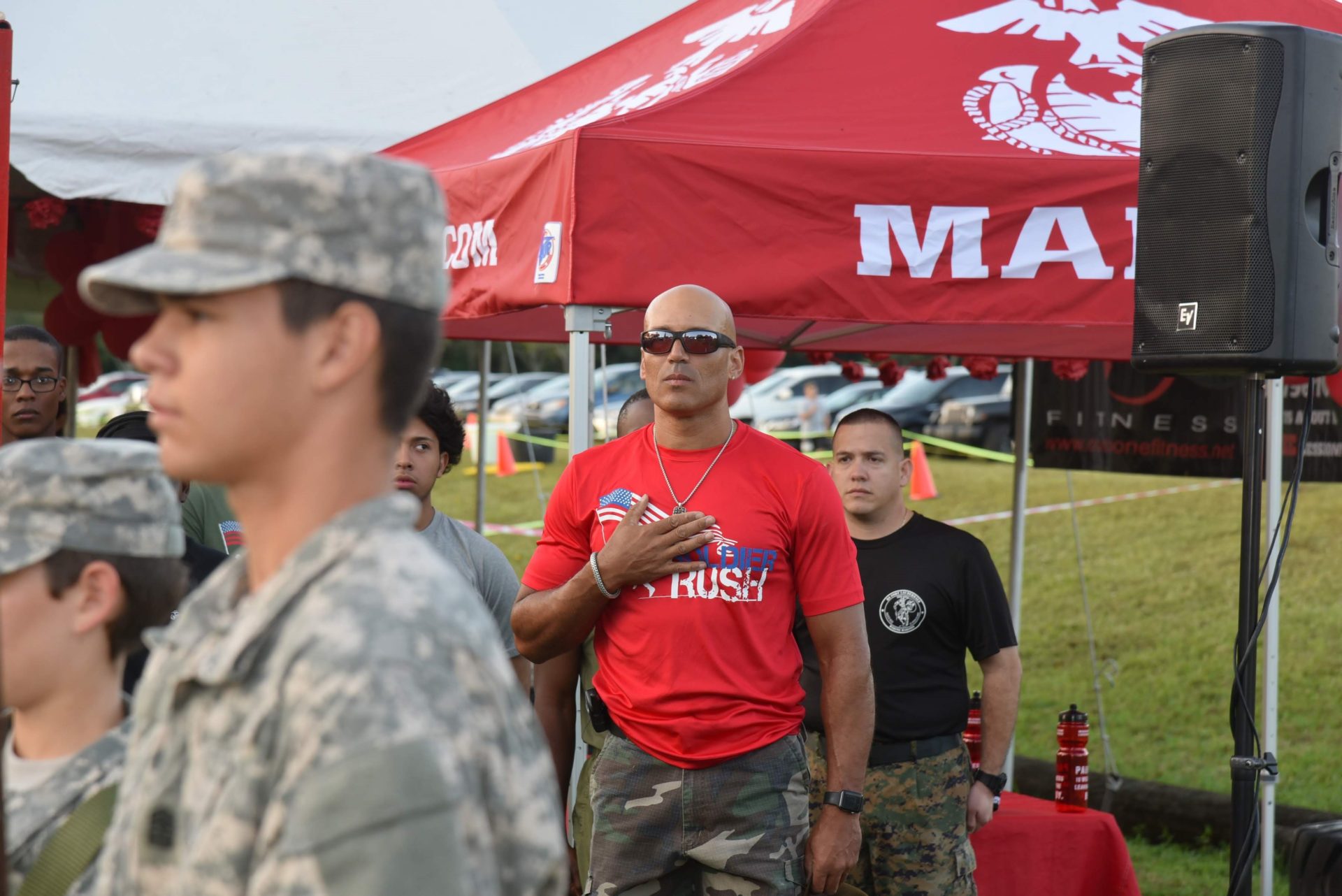 Manny Mair, the founder of Soldier Rush. Soldier Rush is a 5k family obstacle course that raises money for first responders, veteran programs and Parkland Cares. This year's race will be held Nov. 9 in Parkland.
S
oldier

R

ush is designed for families, but has three times the amount of obstacles as higher-profile races.

A

nd it's all for charitable causes.

By Kristen Grau

Manuel Mair has spent the last five years planning and setting up an annual 5k obstacle course in Parkland called Soldier Rush. The 49-year-old Parkland resident says each year, he gets "four days of no sleep" in the days leading up to the race.

And after he sets up all the tires, walls, and ropes for people to flip, jump over, and pull, he doesn't even race in it. He says he's too busy doing something far more important for the race: writing checks for good causes using the funds from the race.

The race will celebrate its fifth year in November. The former Marine mostly donates to veteran advocacy groups and first responders. But last year, he added Parkland Cares to his list of check recipients because he knows mental health issues aren't just a "veteran thing," he said. From living in Parkland, he knows mental health issues especially impact young people.

"A lot of the reasons why we have some issues and mass shootings is because of mental health," Mair said. "So if we can create a system where people can voluntarily feel as though they can get help, or if someone else sees someone who is struggling, they could be like, 'Hey, there's an organization out there that can help.'"

The Parkland Cares mission hits close to home for many of the Soldier Rush volunteers who help set up the event, too. They include the Marjory Stoneman Douglas High School JROTC students who were directly impacted by the tragedy last year. Three of the Parkland shooting victims — Peter Wang, Alaina Petty and Martin Duque — were JROTC students.

Soldier Rush donated almost $5,000 to Parkland Cares after last year's event and is donating again this year.

"Soldier Rush's support of Parkland Cares shows that mental health support isn't just something that college students or young adults need to pay attention to," said Stacey Udine, Parkland Cares' executive director. "It affects people of all walks of life — veterans, adults, high schoolers, first responders, everyone."
What's Soldier Rush?
For just 3.1 miles of racing, there are over 50 obstacles to arrange. Mair gets some help from volunteers from United Way, an organization that raises awareness for veterans' homelessness and mental health, and Marjory Stoneman Douglas High School JROTC students.
"Every single year it's such a beat down that I say to myself, 'I can't do this again,'" Mair said. "Then I look at 10,000 pictures of all the smiles on people's faces and the videos. I'm just in awe of what occurred during that six-hour period and then it just flips a switch in me and tells me, 'I can't wait to do it again.'"
Mair is a veteran Marine — so he realizes he's in better shape than most people. He has multiple personal trainer certifications, and can conquer popular courses with his 12 years of obstacle course experience.
But he says those races may be too challenging for average people, even with training.
"To jump into a Spartan or a Tough Mudder is kind of like jumping into deep waters when you don't know how to swim," he said.
Spartan is an obstacle course race that takes place in 42 countries stretches up to 30 miles. Tough Mudder is another similar chain with series in multiple locations — one style being a nonstop race from 8 p.m. to 8 a.m. where athletes complete as many 5-mile laps as they can.
So Soldier Rush is designed to be accessible for anybody — children, beginners, and elite racers, too. Mair's theory is that popular obstacle courses like Spartan and Tough Mudder are only realistic for 3 percent of people. The other 97 percent, however, should also have a course available that's achievable.
"There's folks who are taking three times as long to do [Soldier Rush] and just having an amazing time," Mair said. "It's an amazing workout, and then they cross that finish line with a sense of accomplishment."
What makes it different?
Although Mair has organized Soldier Rush for five years, he's never competed in it. He says his behind-the-scenes work of fundraising for charities is more important.
Besides Parkland Cares, here are the other organizations Soldier Rush donates to:
United Way: an organization that raises awareness for veterans' homelessness and mental health

Honor Flight: a nonprofit that flies war veterans to memorials and museums in Washington D.C. from cities around the country

Fitness on a Mission: a charity (started by Mair) that hosts events like Soldier Rush to raise money for veteran/first responder advocacy groups and groups that "aid the fight against PTSD, childhood obesity, diabetes and heart disease"

First responders in South Florida
"It's definitely a grind, but it's a very rewarding grind. But the most rewarding part is to write checks," he said. "I'm a part of the cause, I'm helping people even further than just my community."
Last year's race honored the victims of the Marjory Stoneman Douglas High School shooting by including 17 walls to jump over to remember the 17 victims.
After serving in the Marines 30 years ago, Mair developed a new level of respect for veterans — which is why he's passionate about putting this event together. This year, he even traveled on an Honor Flight trip himself and experienced firsthand the kind of initiatives he's supporting.
"[People] don't realize that … freedom was actually paid for with blood, sweat, tears, everything by veterans," Mair said. "And it's really sad that most people don't appreciate that and don't acknowledge it so I can only do my part."
To get your tickets and find out more details, visit the event's page.